Welcome to another Edition of Fazool!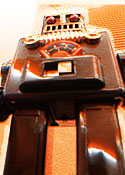 Much has been cooking since our last edition, Pasi has explored landscapes and cuisines of Vietnam, Soraya tasted Thailand, we've added more music and more art to the scene, we've completed a secret project (we hope to be able to tell you about that in the future), and a new creative, Virginia, has added some Spanish spice to our already multicultural and tasty iTANK gumbo.
HOT from the fire in May is our new sampler!
This is a magazine of 80 pages we've compiled to show-off some of the work we've been doing. It's a short run edition on recycled stock. We will be distributing some ourselves and through a couple of art bookshops. If you'd like a copy let us know, heck, we might even sign it for you!
Thanks to those that sent feedback on our previous edition. Please send us any comments about our stories or if there's anything you'd like to see (or not see) in future editions of Fazool. You can click here (opens in new window) to have Fazool delivered to your inbox!
Cheers,
Pasi